How to get your Facebook Business Verified?
With over 2.6 billion users, Facebook is the right place for you to advertise your business. Every small business has a page on Facebook highlighting their services or products. But once you reach a specific size of your business, managing all the ad accounts, posts, and team members can become challenging. That's where Facebook Business Manager comes to the rescue. By using the Business Manager, you will not only add control over roles but also add a security layer which becomes crucial for big businesses.
Facebook Business Manager is the central hub where you can manage all your social media profiles, ad accounts and assign roles. All these features will make your Facebook account more structured and organized.
Why did Facebook need the Business Manager to be verified?
Facebook opened its Marketplace in May 2007, where businesses can post and sell products. But it was in February 2012 that it introduced a verification feature for businesses. The following are the reasons why Facebook added this feature for Business Manager Accounts.
Maintain Authenticity of Business
In the year 2020, Facebook removed almost 6.2 million spam content. With such a large user base, it isn't easy to monitor every single piece of content on Facebook. To gain the confidence of its users, Facebook introduced verification of the Business Manager account. Every account which has a blue tick is sure to be a legitimate business registered in government records.
Remove Duplicate or Fake accounts
Creating a Business account is very simple. It is quite possible that there might be multiple accounts of the same business. From October 2020 to December 2020, Facebook has removed around 1.3 billion fake accounts from its platform. Verification of the Bussiness Manager account was a more efficient solution to stop such malpractice.
Elimination of Scammers from Facebook
With all the transactions shifting online, scammers often target users or even employees through phishing attacks. They simply use Facebook pages with big names to fool users. But with the introduction of verification of the Business Manager account, users only trust the verified account, therefore keeping their data safe.
Steps to verify your Business Manager Account:
Create a new Facebook Business Manager Account, or Log In if you already have one. This form will be visible once you click on the Create Account Button.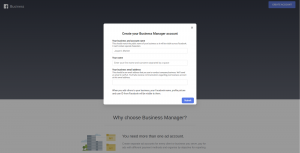 Fill in your business name, your name, and the official business email address to get started.
After submitting the form, you will receive a confirmation mail on the email address provided. Click on the link to proceed further.
Fill in all the details of your business by going to the Business Settings -> Business Info.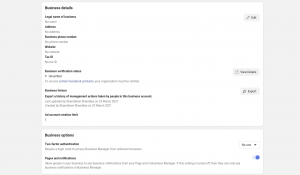 Move to the Security Centre at the right pane and check if the Start Verification button is enabled. If the button is greyed out, create an app on the developers' account of Facebook. The following steps will walk you through to enable the Start Verification button.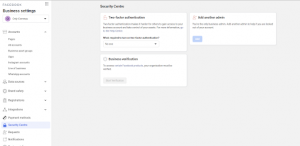 Log In to your developer Facebook account and switch to the My Apps section. Click on the Create App button. You will see a screen similar to the image below. Choose the first opinion, that is, Manage Business Integrations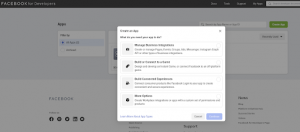 Fill in the details such as the Application's name, the contact email (through which the business account is created). Make sure you select your business account from the drop-down menu and check in the Yourself and Your Business radio button. Click on Create App ID once done.
The next page that appears is Add Products. Add Facebook Login to your app.
Next, select the Web Platform for your app and add the URL. That's it. You are good to go now! Click on the Dashboard button from the right pane.
Switch back to your Business account and refresh the page. Voila! You will now see the Start Verification Button enabled. Click on it to proceed further.
In the first step, enter your business details. Provide only the legal address and name of your business. Now, Facebook will look up the details provided with the Local Database it has and prompts you with the information it gathers. If it's correct, you can click on Next.
After one final call to enter the legal name and address for your business, Facebook will ask you to upload the supporting documents.
Benefits of a Verified Business Manager account:
Now that you have got that blue tick on your Business Profile get an insight on how it can be helpful to give you an edge over your competitors-
Account Credibility: Facebook never hands over the verified badge without a proper background check of the business. So, it stands as a symbol of authenticity for customers. They can be sure that it is a legitimate business and connect with you. Users will know that they are getting updates directly from the official account rather than fake companies. In case of any queries or complaints, your customers will know they are in the right place.
Improved Traffic Engagement: Facebook lists verified pages on top of the search list and also promotes your product more frequently. Being higher on the list in search means you have a higher chance of interaction with your audience. Along with finding your page more easily, they will also be more likely to comment, like, or even buy a product.
Early Access to New Features: As an added benefit, verified Business Manager accounts get early access to the features that have not been rolled out for regular users. You can utilize those features and always be a step ahead of your competitors.
Ease in the verification of Whatsapp Business account: Whatsapp Business comes with exciting features to take your business to your customers' WhatsApp. To be able to access all the functionalities of the WhatsApp Business account, you need to have your Facebook Business Manager verified. The combination of a verified Facebook and WhatsApp account can not only help you connect with your customers but also improve your sales.
Direct Support: If your account gets hacked, or it shows abnormal behavior, you can directly contact the Facebook support team. They will look into your problem at the earliest and come up with a solution. This direct contact feature isn't possible with regular accounts.
Overall, verifying your Facebook Business Manager may be time-consuming. But if you have the proper documents, it is worth the wait. The verification badge will surely improve your digital presence and add another feather of authenticity to your cap.